The development of Ant-Man and the Wasp: Quantumania, the newest entry in the Marvel Cinematic Universe, was not without its share of difficulties for Marvel Studios, but one outlandish event temporarily halted filming. In order to meet its February 2023 release schedule, Ant-Man 3 had to film at the height of the Covid-19 epidemic, much like every other Multiverse Saga project up to that point. Retakes happened just one month before the movie's release. Paul Rudd, Evangeline Lilly, and the rest of the cast tried their best throughout the course of the preceding year to finish the essential work required for filming. Lilly even spoke up about her experience filming under lockdown, describing how challenging it was to be enclosed in that bubble while hailing Ant-Man 3 as the finest film of the trilogy after putting in all that effort.
The manure situation in Ant-Man 3 according to Paul Rudd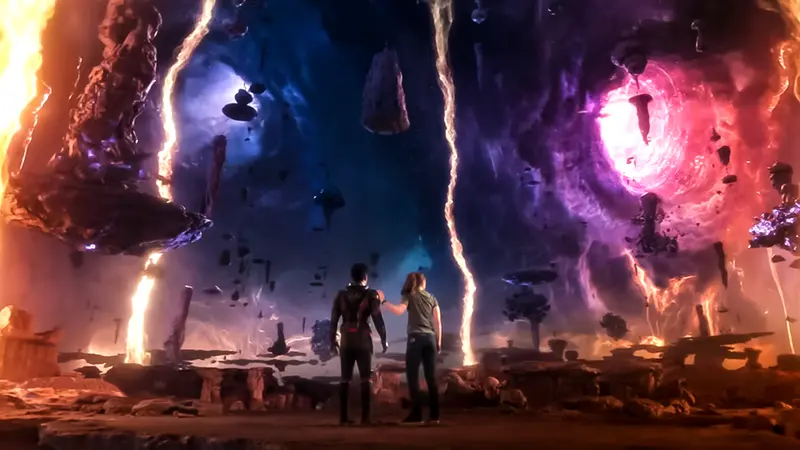 Paul Rudd, who plays Ant-Man, reflected on an odd delay that he and his castmates had while filming Ant-Man and the Wasp: Quantumania during an appearance on The Tonight Show with Jimmy Fallon. Rudd recalled a few days when he recorded footage for some of the Quantum Realm sequences, recalling how the set stank horribly and had trash all over it. When he subsequently discovered that the soil was really manure, the entire set had to be shut down for a day while a new walking surface was installed:
"They have like, dirt, and they try and have as much practical stuff as possible. You really feel like you're on a planet or you're in some weird space. One of the things, we went in and there was dirt all over the floor, and we were shooting with 150 other creatures and people, and it doesn't smell good at all. And throughout the day, it was kind of getting worse and worse, and the next day, it was overbearing, and we realize they probably got a deal on the dirt because it wasn't dirt, it was manure. They actually kind of had to shut it down for a day and then bring in some new dirt. I don't think anyone knew. The Quantum Realm just reeks!"
Rudd also spoke with Yahoo about the circumstance, explaining that the group made an effort to contribute as much useful work to the Quantum Realm as they could, and that everything was put up on a sizable sound stage utilising The Volume technology. Rudd joked that they were all in huge danger if the entire movie was "anything like the stuff [they] were walking on" since manure was being used in place of soil.
Studios are known for employing pretty much any technique necessary to make each new motion picture and television programme run as smoothly and successfully as possible, from using unusual and unexpected locations for the filming to utilising a variety of real-world materials to give the stories an extraterrestrial feel. This specific incident resulted in the usage of dung on the set of the most recent MCU film, Ant-Man 3, which made for a smelly affair as Paul Rudd reflected on his experience. Fortunately, this approach, along with Marvel Studios' ongoing work on CGI-created narrative, aims to make the Quantum Realm feel as authentic as possible as Rudd and his team undertake their most difficult quest to far. In order to establish his rule over the subatomic environment and subsequently the whole Multiverse, Kang the Conqueror will use this in conjunction with the technologically superior core city of the Quantum Realm.
On February 17, Ant-Man and the Wasp: Quantumania will make its theatrical premiere.
About Post Author