The Ant-Man movies have always been a more intimate affair in comparison to other Marvel Cinematic Universe stories—in more ways than one. Between Avengers: Infinity War and Endgame, his 2018 sequel Ant-Man And The Wasp was a family comedy with superhero trappings. His 2015 debut was a shrinking-man sci-fi heist tale.But the third Ant-Man movie, Ant-Man And The Wasp: Quantumania, is going big, just as Scott Lang played by Paul Rudd does when he turns on Giant-Man. very large Peyton Reed's threequel isn't just promising a surreal journey into the Quantum Realm; it also marks the start of the MCU's Phase 5, a significant advancement in the Multiverse Saga, and Kang The Conqueror, a major new antagonist created by Jonathan Majors who would make Thanos shudder in his gold-toed boots. The biggest villain to yet in the MCU is ready to confront Marvel's smallest hero.
A world-exclusive journey to the heart of Ant-epic Man's new adventure is featured in the upcoming issue of Empire. It examines why the smallest Avenger is getting a bigger, bolder, and more bonkers outing this time around, peeks into the personal stakes for the larger Pym, Lang, and Van Dyne families, reveals the eye-sizzling environments of the Quantum Realm, and explains why Kang The Conqueror will fundamentally alter the Marvel Cinematic. In order to investigate Quantumania's biggest conundrums, we speak to Marvel CEO Kevin Feige, director Peyton Reed, as well as actors Paul Rudd, Jonathan Majors, Evangeline Lilly, Michael Douglas, Michelle Pfeiffer, Kathryn Newton, and more. There are also more never-before-seen images than you can shake a tube of Pym particles at. Fans of Marvel, get ready: Phase 5 is ready to start, and it will go off with a Kang rather than simply a bang.
On the front cover of this month's magazine, Kang towers over our heroes, poised to reclaim control of the Multiverse Saga.Additionally, Murugiah created a mind-blowing multiversal colour explosion for the subscription cover specifically for Empire.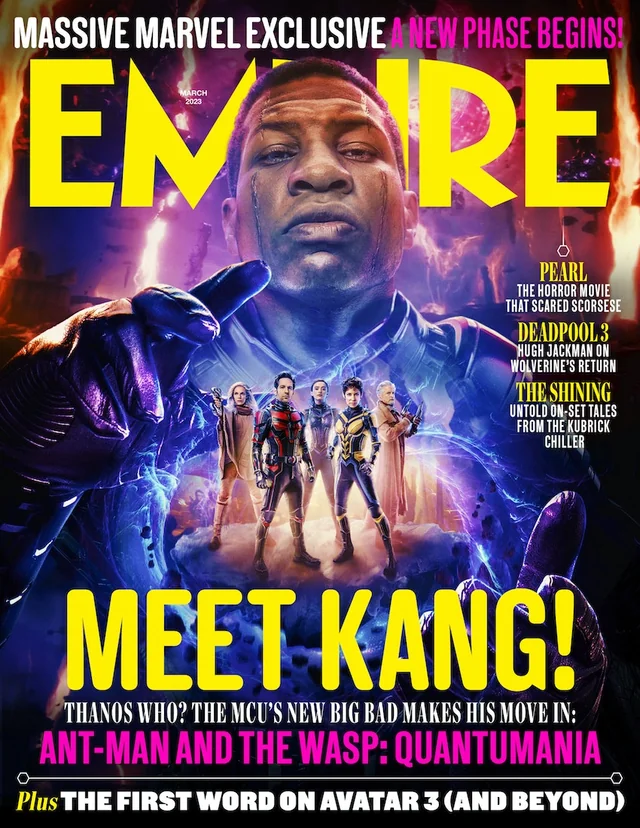 Additionally in this issue, we speak with Pearl director Ti West and star Mia Goth about the Technicolor horror prequel that frightened Scorsese. We also hear from producer Jon Landau about Avatar 3 (and beyond), talk with Hugh Jackman about the long-awaited return of Wolverine in Deadpool 3, delve into the making of The Shining with Lee Unkrich's brand-new definitive account of its creation, and much, much more.
About Post Author