When the promotional tour for The Marvels began, Marvel Studios provided a sad update for the impending MCU sequel. After a few significant cameos on the big screen and on Disney+ in Phase 4, Captain Marvel 2 is expected to take centre stage as the last MCU film of 2023, giving Brie Larson her long-awaited solo sequel. Yet, while interest in Carol Danvers' tale is already growing, there are some issues with the MCU as a whole due to the forthcoming release schedule and a fresh round of delays. Marvel Studios is reportedly looking to guarantee that a number of Phase 5 Disney+ series arrive with the highest level of quality possible, which might cause delays beyond 2024. Even with those setbacks, though, it has been months since any of the Phase 5 or Phase 6 MCU films experienced a delay of this magnitude.
Another Another Delay for Captain Marvel 2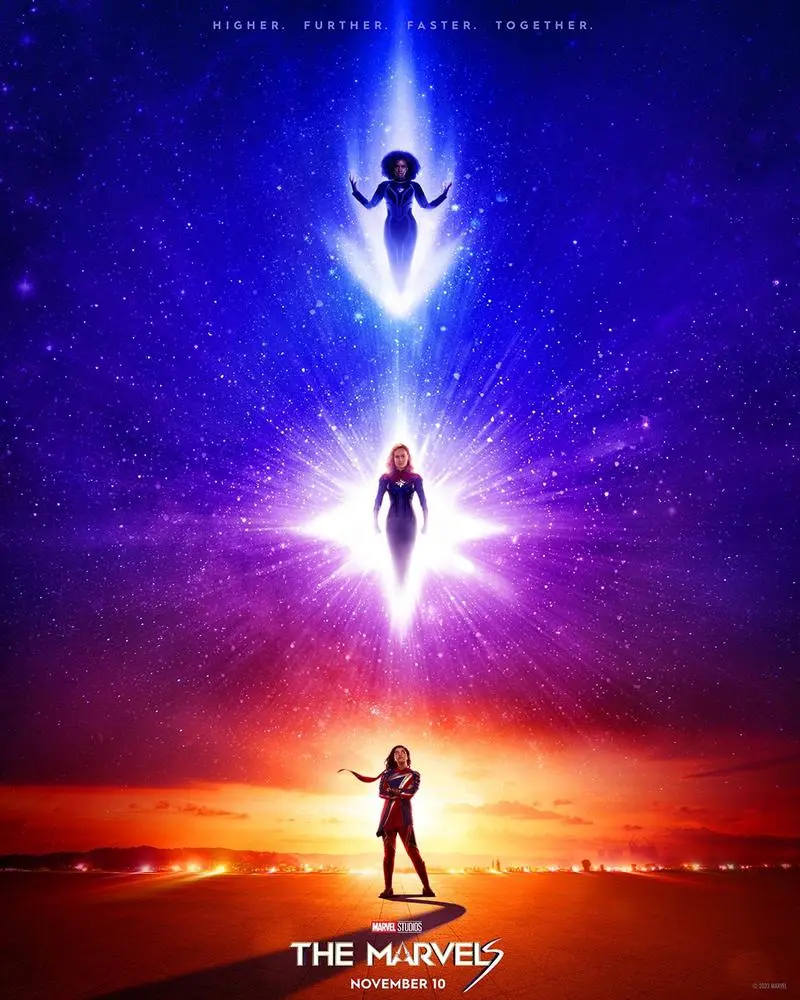 The Marvels will now open in theatres on November 10 after yet another delay, according to a statement from Marvel Studios and Disney. Prior to exchanging release dates with Ant-Man and The Wasp: Quantumania, the sequel was initially scheduled to hit cinemas on February 17. This caused the sequel to be postponed until July 28.
The first official poster for the film was also released at the same moment, launching Captain Marvel 2's marketing campaign. The poster shows Teyonah Parris' Monica Rambeau soaring over Iman Vellani's Ms. Marvel on the ground and Brie Larson's Carol Danvers flying in the centre of the picture in her full outfit. The slogan "Higher. Farther. Faster. Together" is also included on the poster, giving it the same vibe as the first Captain Marvel movie, which also utilised the phrase "Higher. Further. Faster."
Fans of any brand never want to hear the word "delay," especially given how much content the MCU has released over the past two years. Yet, there are a few significant considerations that may be at play in this choice, which only delays the release of Captain Marvel 2 by around four months. Concerns about the overall calibre of MCU material, which have already started to resurface with the release of Ant-Man and the Wasp: Quantumania, are at the top of the list for fans. This delay will allow Marvel Studios the ability to focus and make sure Captain Marvel 2 is up to date in every way, especially with two of the MCU's most exciting additions, Ms. Marvel and Monica Rambeau, reaching the big screen. Then there's the fact that this year as a whole contains more blockbuster movies than any other year in recent memory, with this summer being particularly jam-packed.
Release dates will be set for Indiana Jones and the Dial of Destiny (June 30), Mission: Impossible – Dead Reckoning – Part 1 (July 14), Barbie (July 21), and Oppenheimer during a three-week period from late June to late July (July 21). With this revised release date, Captain Marvel 2 will only be in close proximity to Dune: Part 2 (November 3), giving it a greater opportunity to have its own time in the limelight. Captain Marvel 2 would have had to compete against all four of those films at various points. The MCU will eventually be spaced out more equally, despite the fact that Marvel will no longer have a mid-summer release for the first time since 2016 (apart from 2020 due to COVID-19).
This cut short what would have been a nine-month theatrical content delay, putting Captain Marvel 2 only six months in front of Captain America: New World Order (May 3, 2024). Even if at least one Disney+ show was probably going to debut in the interval between those movies, that content gap would have been the largest since Phase 4 began. While there will still be a long wait for fans following Guardians of the Galaxy Vol. 3 on May 5, this will allow them to relax more in between all three films while still having a reasonable amount of time until the subsequent release. Marvel fans will undoubtedly find this delay upsetting as the Multiverse Saga enters its second Phase, but maybe, by the time everything is said and done later this year, it will all have worked out for the better. And now that the film's first poster has been made public and features the thrilling trio of women from Captain Marvel 2, Marvel at least offers fans a little something fresh to utilise to raise interest.
Now scheduled for release on November 10, The Marvels.
About Post Author