A new Spider-Man series has begun, setting up the Webslinger's darkest Spider-Verse story of all time where allies become enemies (and vice versa).While Spider-Man is no stranger to adventures to save the multiverse and meeting various variants of himself, not even Peter Parker is prepared for End of the Spider-Verse, his darkest story yet. As seen in the new Spider-Man #1 releasing concurrently with Marvel's Amazing Spider-Man series, Shathra the Spider-Wasp is unleashing a major multiversal war where friends will become foes and vice versa. As such, End of the Spider-Verse has already become one of Spider-Man's most intense stories after a single issue.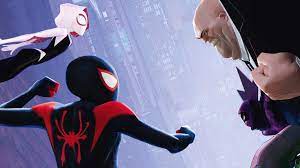 While Spider-Man has been grappling with the fallout of a mysterious sin he committed 6 months before Marvel's new Amazing Spider-Man series from Zeb Wells and John Romita Jr., Dan Slott and Mark Bagley's Spider-Man will be releasing at the same time, focusing on the Spider-Verse which is now under siege from Shathra. A corrupted deity whose idea to celestially map humanity was passed over in favor of the Web of Life and Destiny, Shathra is determined to destroy all Spiders in the multiverse, severing every thread of the cosmic Web Spider-Man Breaks The Fourth Wall So Hard It Would Make Deadpool Proud
However, Spider heroes have already begun to assemble in response to Shathra's attacks in the new Spider-Man #1. Tasked with guarding Peter who carries a greater significance as the Spider-Man of the primary Earth-616, Spider-Woman, Miles Morales, and Silk are all sent by Madame Web to keep the original Webslinger safe. While Peter thought that the main threat was the arrival of the classic villain Morlun, it's revealed that the Inheritor has surprisingly come to warn Spider-Man about Shathra and her plans to unravel the Great Web. As such, Spider-Man is horrified to discover the dark new status quo for many of his past allies.
About Post Author