Marvel presented six new covers for what appears to be swiftly turning into a collector collection, continuing a recent trend of MCU-inspired variant covers. For the continuing Scarlet Witch book by Steve Orlando and Sara Pichelli, David Nakayama just unveiled a variation that was inspired by WandaVision. Before that, in 2021, comics were accompanied with mini-sets featuring scenes from Phases 1 and 2. Additionally, the Phase 3 collection debuted in December with three movie-themed covers for Avengers: Infinity War, Ant-Man and the Wasp, and Avengers: Endgame. Six more films have been added to the Phase 3 variant cover collection, bringing the collection of Infinity Saga-inspired covers closer to completion.
Six new MCU Phase 3 comic book covers
Six new MCU-inspired variant comic covers, each based on a separate Phase 3 movie, were announced by Marvel on Twitter.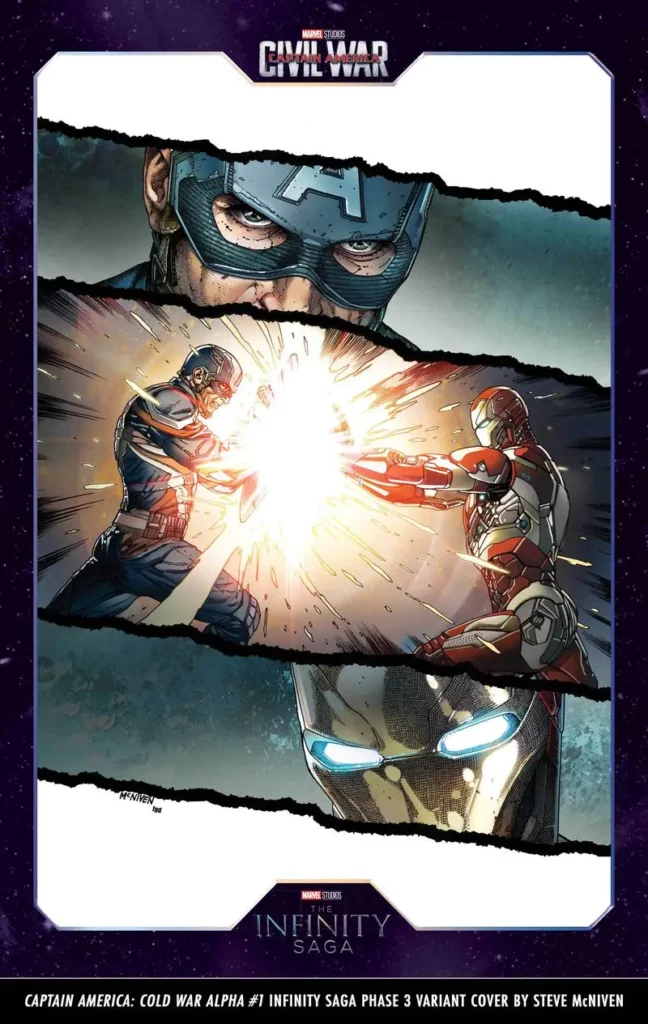 For Captain America: Cold War Alpha #1, Collin Kelly, Jackson Lanzing, Tochi Onyebuchi, and Carlos Magno will create a variation of the Captain America: Civil War cover. The famed Captain America (Steve Rogers) vs. Iron Man (Tony Stark) clash in Siberia from the movie is shown on the MCU variant cover by Steve McNiven.
The titular sorcerer is shown by Steve Skroce on the Doctor Strange-inspired variant cover doing what looks to be quite complicated magic at the New York Sanctum Sanctorum. The forthcoming Doctor Strange #1 by Jed MacKay and Pasqual Ferry will have a variant cover.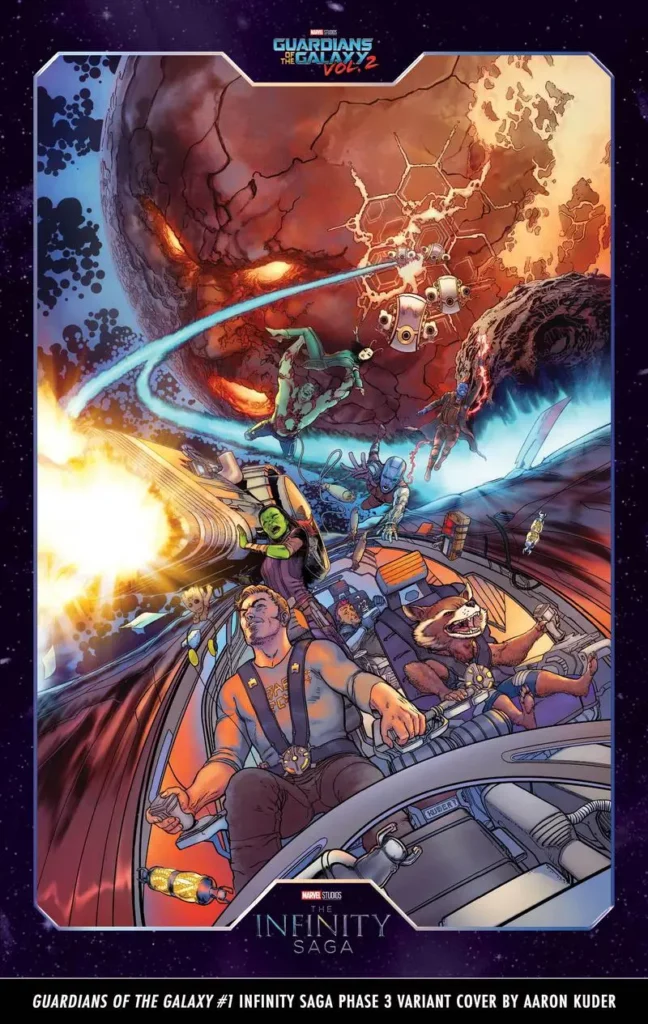 The complete cast of the Guardians as well as the main antagonist from the film are included on the variant cover by Aaron Kuder for Guardians of the Galaxy Vol. 2 by Jackson Lanzing, Collin Kelly, and Kev Walker. In a vibrant and action-packed cover evocative of the film that served as its inspiration, the cover depicts Ego the Living Planet pursuing the Guardians – Mantis, Drax, Yondu, Baby Groot, Gamora, Nebula, Star-Lord, Kraglin, and Rocket — through space.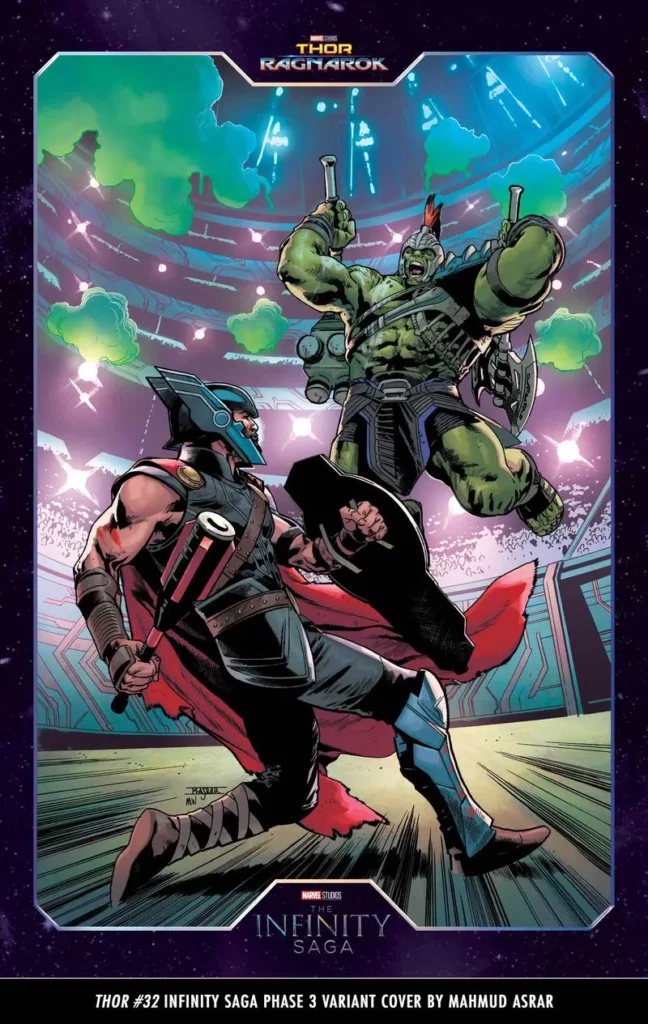 Thor #32 by Torunn Grnbekk and Nic Klein features a variant cover by Mahmud Asrar that shows Thor and the Hulk in the arena on Sakaar, a scene from the movie Thor: Ragnarok that is a fan favourite. This cover is immediately recognised as having been influenced by the third Thor movie because to its vivid colours and large, gladiator-style clothes.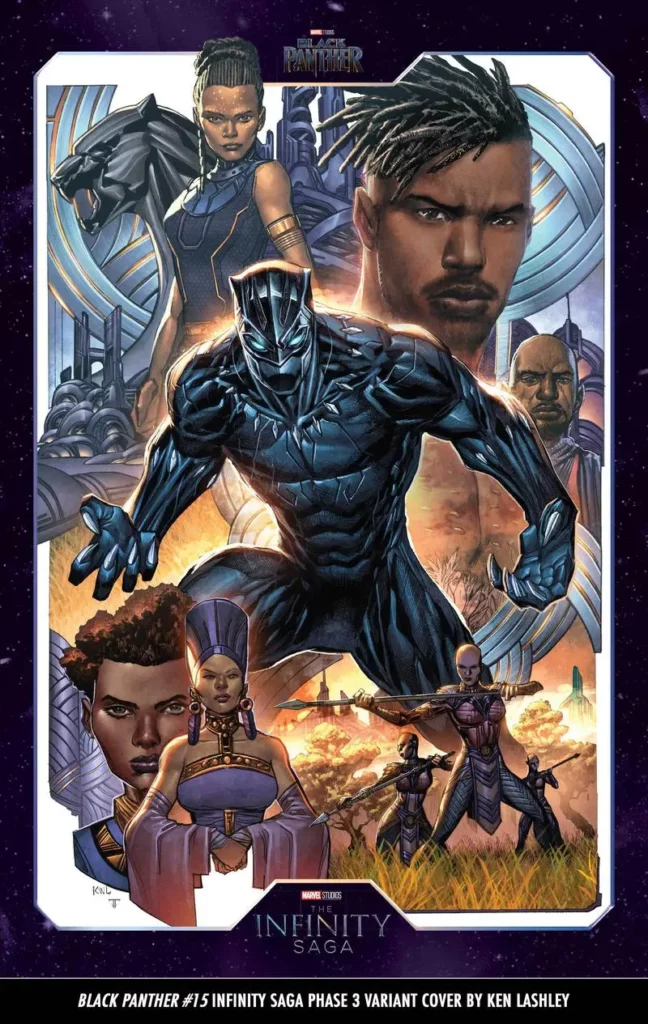 Many of the most recognisable figures from the movie are shown standing valiantly on the Black Panther #15 variant cover by Ken Lashley for John Ridley and German Peralta. Shuri, Killmonger, Black Panther (T'Challa), Zuri, Nakia, Queen Ramonda, and three members of the Dora Milage are all shown on the cover, with Okoye standing in the front of the three.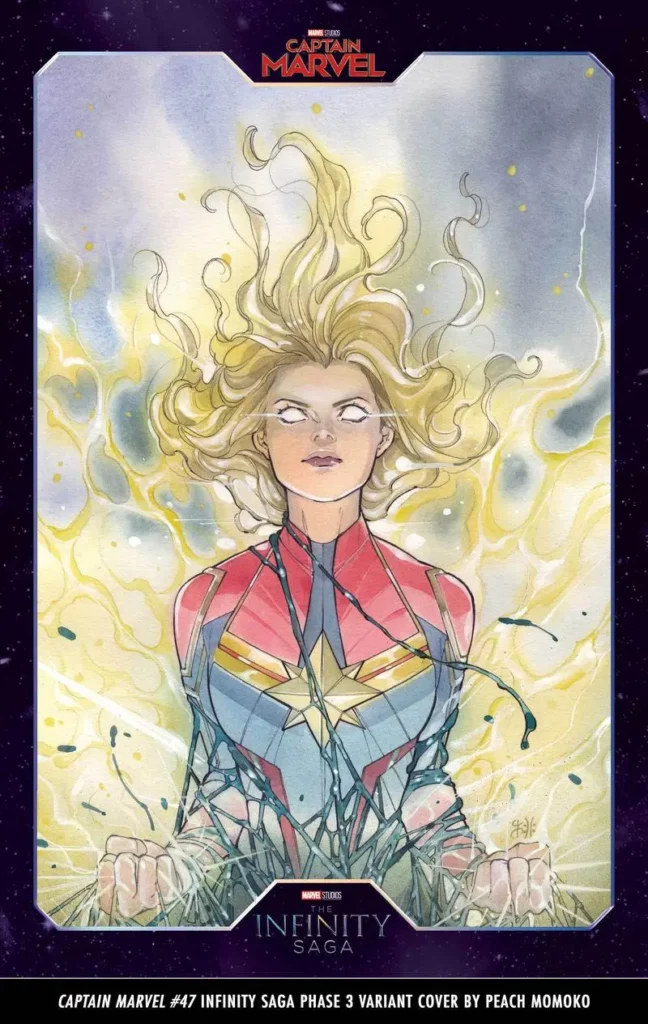 Finally, the Captain Marvel MCU variation by Peach Momoko for Kelly Thompson and Sergio Fernandez Davila's Captain Marvel #47 stands out from the other five covers due to its colouring, which is reminiscent of watercolour. With the strength and light she wields around her as she breaks free from her chains, Captain Marvel is shown on the cover. The tableau is completed by the luminous white eyes, which serve as a reminder to admirers of Carol Danvers' immense strength.
Almost every Phase 3 project has served as the inspiration for a variant cover for a Marvel comic after the six new variant covers and the three shown in December 2022. In reality, only two movies from the whole Infinity Saga are absent from the collection: Spider-Man: Homecoming and Spider-Man: Far From Home. This is because both Phase 1 and Phase 2 include variant covers for all of their movies. It's interesting to note that none of the previous three Spider-Man movie-inspired covers feature the titular character, even in the case of elaborate group artwork like the Infinity War and Endgame covers.
Maybe Spider-Man isn't on any of these MCU-inspired versions due of Sony licence concerns. Fans simply need to purchase the companion comics for Spider-Man: Homecoming, Spider-Man: Far From Home, and Avengers: Infinity War, all of which are available in comic book stores or on Marvel Unlimited, to see Tom Holland's Spider-Man depicted in comic book form. All of these variant covers will be available at comic book stores as their individual issues arrive throughout 2023, and The Infinity Saga is currently streaming on Disney+.
About Post Author