The latest trailer for Guardians of the Galaxy Vol. 3 featured more thrilling scenes of the MCU's cosmic defenders, but it also had one violent moment starring Bradley Cooper's Rocket Racoon. Rocket's grim destiny was already hinted at in the official description for Vol. 3, which also confirmed that Peter Quill and his band of misfits will attempt to save him in a perilous new mission that may spell the end of the Guardians as fans know them. Fans are concerned that Rocket would pass away in Vol. 3, especially since director James Gunn stated that a significant character will die.
Rocket's Brutal Origin is Explored in Guardians 3
James Gunn's Guardians of the Galaxy Vol. 3 has a brand-new official trailer, which was published by Marvel Studios. The threequel will finally go into the MCU hero's traumatic past, according to a quick glimpse of a young Rocket restrained in what seems to be an operation room that was released alongside some action-packed footage: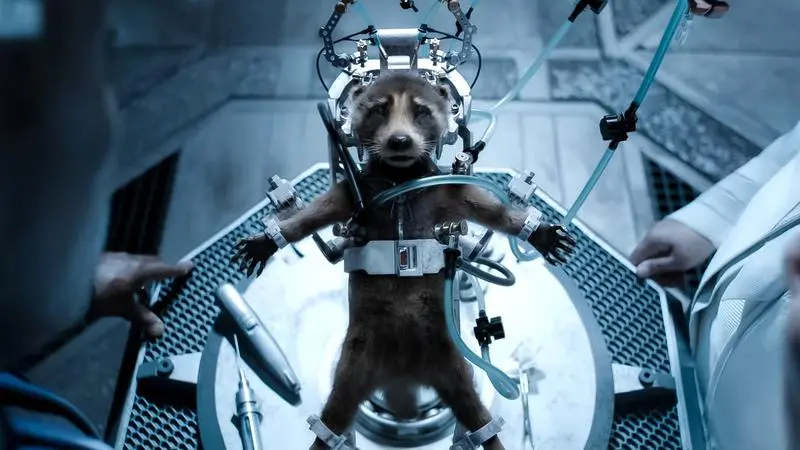 The purpose of the High Evolutionary was also emphasised by Rocket, who said:
"He didn't want to make things perfect. He just hated things the way they are…"
There are several intriguing details in the most recent Guardians of the Galaxy Vol. 3 teaser. Although the teaser trailer gave viewers a sweet glimpse of Baby Rocket, the second set of fresh video showed a more in-depth look at Rocket Racoon's beginnings. Fans may take a closer look at the High Evolutionary experiments that produced Rocket's present appearance after seeing the graphic sight of him in the operating room. With the filmmaker revealing that Rocket is the franchise's covert protagonist, James Gunn had said that the character is the inspiration behind Vol. 3.
The significance of Rocket may allude to the fact that the threequel is his last outing, which might result in the dissolution of the Guardians as the synopsis implied. The squad would suffer a terrible loss if Rocket were killed, but Vol. 3 might heighten the stakes by getting rid of another team member, perhaps Drax in light of Dave Bautista's most recent remarks on his MCU retirement. Whatever the case, Vol. 3 is expected to take Marvel fans on an emotional journey.
On May 5, Guardians of the Galaxy Vol. 3 will make its theatrical debut.
Watch the trailer below:
About Post Author