Hugh Jackman's comeback as Wolverine in the upcoming Deadpool 3 was one of the most startling yet thrilling news announced in 2022 because it had been widely assumed that the actor would be permanently retracting his claws following the critically acclaimed James Mangold picture Logan from 2017. Both Reynolds and Jackman have spoken candidly about how the two characters would interact on the big screen, as fans are already clamouring for details about the planned sequel featuring Ryan Reynolds.On this week's episode of Who's Talking to Chris Wallace?, CNN Anchor Chris Wallace sat down with actor Hugh Jackman to talk about the actor's work on Broadway and in movies. Jackman shared his reasons for reprising the role as well as the steps involved in getting into mutant shape.
Wallace questioned Jackman's decision to play Wolverine for a tenth time after he declared that Logan would be his last appearance as the character, particularly in light of the way that movie's plot effectively put Wolverine to rest. Before answering the question, Jackman joked that his family considers Deadpool 3 to be more of a "Wolverine 10" before going into further depth about why he chose to make a comeback, repeatedly mentioning that he had first rejected the notion. The decision to adapt one of the most well-known and lasting rivalry from comic books for the movie was ultimately made after a talk with his wife.
"This story is pre-'Logan', which is exactly as you said, where Logan died. So [we're] pre that in the storyline. And I honestly, Chris, I really thought I was done. Like I was at peace with it, fine. I got asked every day either in interviews or Ryan Reynolds ringing me 'can we do it again', I'm like no I'm done. Someone said to me, I think… I think it was Deb, I think it was my wife. She said, 'you know, after this, what is it you really want to do?' And I was just driving down a day later. And it came to me like that. Because when I keep thinking of me and Ryan, of Deadpool and Wolverine, which are classic comic book rivals, there's also a dynamic that I've never really got to do before as Wolverine. It keeps reminding me, do you remember that great Nick Nolte, Eddie Murphy movie? '48 hours'. Remember that one? It reminds me of that, those two characters, you know, the fast mouse sort of wisecracking guy and the grizzled old sort of tough, you know, acerbic vinegary, you know, character me and I just thought this is gonna be fun, something I've never done before. And I can't wait."

This Deadpool-Wolverine movie may also be a way for fans to atone for the pair's harshly criticised performances in 2009's X-Men Origins: Wolverine, which also starred Reynolds and Jackman in their respective roles. The fan-favorite character's portrayal was so despised that in Deadpool 2's credit sequence, the new Deadpool is seen travelling back in time to murder the original Deadpool. The two characters will appear in this movie for the first time with depictions that are more accurate to their origins.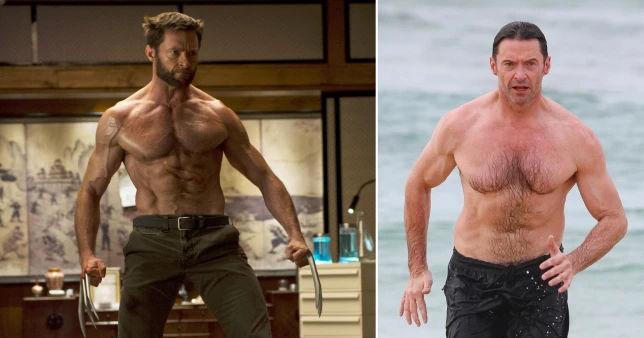 Wallace also inquired about Jackman's preparation for the role of the popular Mutant, as well as the process of preparing for a movie like this. The actor mentioned that he will be training between the time he wraps up his Broadway run in The Music Man and the beginning of filming for Deadpool 3 and that he will be preparing all that time, saying that over the years he has learned that he cannot rush the body transformation and that it will take time.
"I've learned you can't rush it. I've learned that it takes time. So we have six months from when I finish to when I started filming. And I'm not doing any other work. I'm going to be with my family and train. That's going to be my job for six months. And I'm really fit right now. There's one thing that about eight shows a week being on Broadway singing and dancing is I'm fit. So I'm healthy. I have a good place to start. And apologies chickens. Run a mile. Start running now because I'm coming for you."

On November 8, 2024, Deadpool 3 with Shawn Levy as director will have its world debut. Who's Talking to Chris Wallace? has brand-new episodes accessible every Friday morning on HBO Max, and CNN broadcasts them every Sunday at 7 p.m. Eastern. For more information on the next project and the beloved character's MCU debut, keep checking 9to5marvel.
About Post Author