It's been Agatha all along! While Marvel Studios has been making some big announcements at San Diego Comic-Con, they have officially announced a new title for the previously announced WandaVision spin-off series, Agatha: Coven of Chaos, starring Kathryn Hahn's beloved … and hated … villainous character, Agatha Harkness.
With D23 on the horizon, it's shaping up to be an exciting week for Marvel and Disney fans. At The Cosmic Circus, we've been on the constant lookout for news about all of our favorites. Today we have some exciting news to share for those who stan the alpha witch and nosey neighbor Agatha, played by Kathryn Hahn. If you're one of the folks who have streamed WandaVision's "Agatha All Along" on endless repeat as the soundtrack to your life while waiting these past few months for news, keep reading. We have the details about the working title of Agatha: Coven of Chaos. As we've reported previously, Marvel Studios tends to use a working title for their projects that's different from the actual project title. The studio is doing the same thing for the winter 2023 show Agatha: Coven of Chaos. The upcoming Blade movie, for example, uses a working title of Perfect Imprints. And we reported the news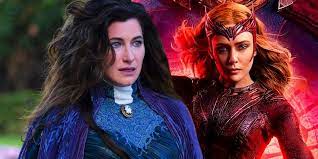 Agatha: Coven of Chaos is an upcoming Disney+ original series, set within the Marvel Cinematic Universe centering on Agatha Harkness. It is a spinoff series of WandaVision, from which the starring character originated.
Original Run: Winter 2023
Executive Producer(s): Kevin Feige; Jac Scha…
Original Channel: Disney+
About Post Author