Marvel's Midnight Suns is teasing an extensive lineup of post-launch DLC heroes, including beloved comic book icons like Storm and Venom.An unusual Marvel's Midnight Suns marketing campaign has seemingly confirmed several upcoming DLC heroes, including Storm and Venom. The upcoming tactical RPG will let players recruit Earth's Mightiest Heroes and fight beside them against Hydra and the demonic spawns of Lilith. Recently Marvel's Midnight Suns teased Deadpool after the mischievous mutant took over the game's social media accounts, and now the Merc With A Mouth has teased several more Marvel icons as DLC heroes.
Based on a beloved 1990s comic run, Marvel's Midnight Suns is supposed to highlight the supernatural side of the Marvel universe. The title's main villain is Lilith, an evil sorceress known as the "Mother of All Demons," and the playable roster will include magical and otherworldly heroes like Doctor Strange, Ghost Rider and Blade. However, Marvel's Midnight Suns is not limiting itself to only mystical superheroes. The title will have a robust roster of non-magical heroes too, with Marvel's Midnight Suns including Captain America, Iron Man, Spider-Man and more on its roster.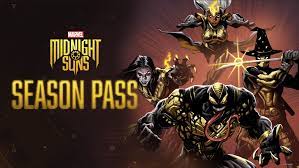 Several recent Marvel's Midnight Suns Twitter posts have revealed multiple characters coming to the game as part of its DLC Season Pass. Deadpool recently claimed ownership of the game's Twitter account, with his presence strongly suggesting that he will be added as a part of post-launch support. A recent Marvel's Midnight Suns Twitter post also practically confirms that Storm, the powerful member of the X-Men capable of controlling the weather, will be a part of the Season Pass too. Venom is the latest character added to the list of Deadpool's leaks, with the symbiotic anti-hero presumably joining the roster after serving as a villain in the main campaign.
About Post Author