Today we are getting the last episode of Disney Plus Marvel Studio Series Moon Knight, it was 6 episode series which started back in late march 2022.
Entire series has been a full of thrilling moments, suspense & marvelous acting by Oscar Isaac, Ethan Hawke & May Calamawy. This series introduces new Villain or a Hero in MCU called Marc Spector / Steven Grant / Moon Knight. We will know which one comes true tonight.
Accordingly to anonymous sources, interestingly Marvel had initially considered Moon Knight as a limited series without any sequel or season 2. But after huge fan following through out each episode they might have decided to take this up further. Reason of saying this is below tweet in which Marvel changed 'Series' finale to 'Season' finale.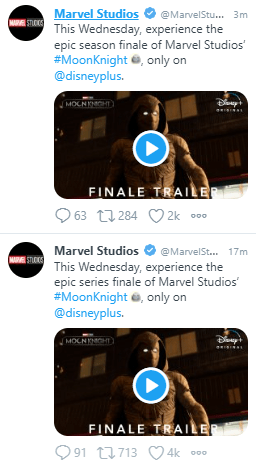 Moon Knight follows Steven Grant, a mild-mannered gift-shop employee, who becomes plagued with blackouts and memories of another life. Steven discovers he has dissociative identity disorder and shares a body with mercenary Marc Spector. As Steven/Marc's enemies converge upon them, they must navigate their complex identities while thrust into a deadly mystery among the powerful gods of Egypt.
NETWORK Disney+
Director Mohamed Diab
Release Date March 30, 2022
Cast Oscar Isaac, Ethan Hawke and May Calamawy
About Post Author