Getting back into the Marvel Cinematic Universe is time! Fans may watch a livestream of the epic sci-fi adventure Ant-Man and The Wasp: Quantumania's red carpet premiere on Marvel.com before it hits cinemas. You won't want to miss a thing as Marvel.com presents a star-studded event unlike any other, with an on-air experience across digital and social media!
Viewers may watch the Ant-Man and the Wasp: Quantumania red carpet livestream from Los Angeles by visiting Marvel.com/Quantumaniapremiere or by visiting Marvel's social media accounts on YouTube, Twitter, Facebook, TikTok, and Twitch. On Monday, February 6, coverage begins at 8:00 p.m. ET / 5:00 p.m. PT. Marvel Snap, the frantic online card battler game from Marvel, will be one of the associate sponsors for the red carpet webcast of Marvel Studios' "Ant-Man and the Wasp: Quantumania."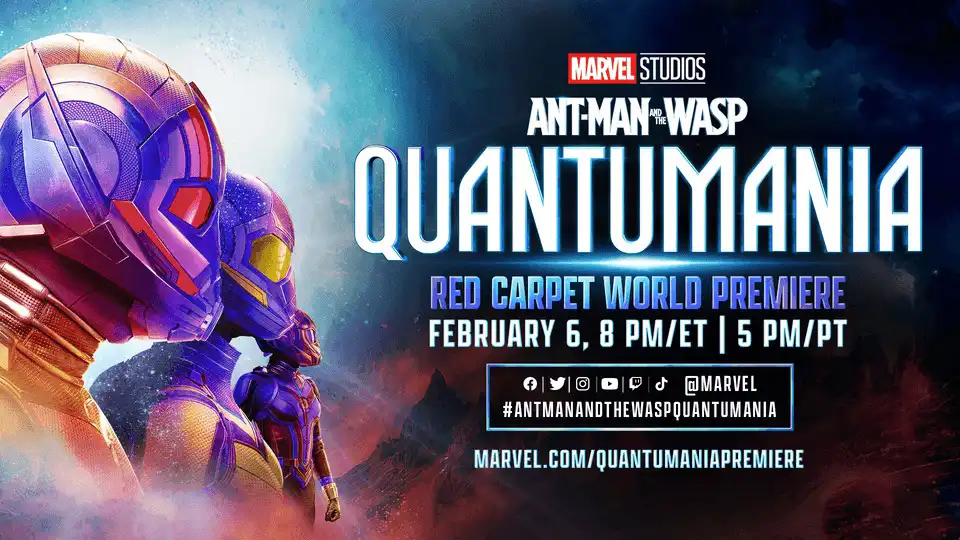 Superheroes Scott Lang (Paul Rudd) and Hope Van Dyne (Evangeline Lilly) make a comeback in the upcoming film to carry on their exploits as Ant-Man and The Wasp. Together with Scott's daughter Cassie Lang (Kathryn Newton), Hope's parents Janet Van Dyne (Michelle Pfeiffer) and Hank Pym (Michael Douglas), and Cassie Lang, Scott's daughter, the family finds itself exploring the Quantum Realm, interacting with strange new creatures, and setting out on an adventure that will push them beyond the limits of what they thought possible. Ant-Man and the Wasp: Quantumania, which is directed by Peyton Reed and produced by Kevin Feige and Stephen Broussard, also features Jonathan Majors as Kang, David Dastmalchian as Veb, Katy O'Brian as Jentorra, William Jackson Harper as Quaz, and Bill Murray as Lord Krylar.
Marvel's internet and social platforms have amassed a devoted fan base, which has produced several significant achievements. Marvel's YouTube channel achieved 20 million followers in January 2023. The channel has 6,900 videos that have been released, garnering 6 billion views, 124 million likes, and 9 million comments. Fans watched for 139 million hours (or 15,000 years) as a result of those views.
On Monday, February 6, don't miss the action, and be sure to follow Marvel on Twitter, Facebook, Instagram, and TikTok to for more cast and crew interviews!
About Post Author