When The Marvels opens in cinemas, Marvel Studios will go down in history. The quasi-sequel to Captain Marvel features Monica Rambeau (Teyonah Parris), Ms. Marvel (Iman Vellani), and Carol Danvers (Brie Larson), making it the first all-female superhero team film in the Marvel Cinematic Universe.
So what can we anticipate from this revolutionary Marvel Phase 5 film? Everything you need to know about The Marvels is compiled below. That covers the release date, characters, probable plotlines, effect on the MCU, and more for the upcoming Marvel film.
There are major spoilers for Captain Marvel, Avengers: Endgame, and Shang-Chi beyond the jump. Along with possible spoilers for the Marvels, we also discuss significant spoilers from the Disney Plus series WandaVision and Ms. Marvel. If you haven't watched them all, go back right now.
On July 28, The Marvels will be shown in theatres all across the world. The upcoming film's initial release date was July 2022. The launch date has been postponed three times, from November 2022 to February 2023 to July 2023. The Marvels was further behind in development than Ant-Man and the Wasp: Quantumania, which is why the most recent of those delays occurred. According to Samuel L. Jackson, new footage for The Marvels was just recently filmed in June 2022. Thus, according to Variety , the two movies' release dates were switched.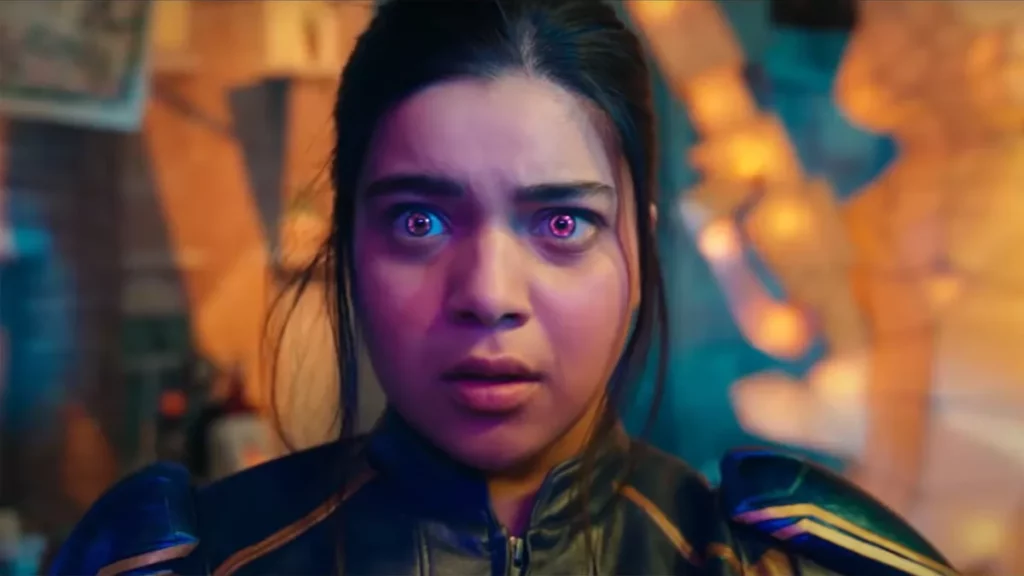 The following contains significant Ms. Marvel spoilers as well as possible The Marvels spoilers. The Marvels doesn't yet have a teaser video from Marvel. However, those who had the good fortune to attend D23 Expo 2022 were given an exclusive first peek at the future film. Variety reports that the movie will pick up immediately after Ms. Marvel's climax and post-credits sequence. As you may recall, Carol Danvers/Captain Marvel and Ms. Marvel, aka Kamala Khan, abruptly swapped places after the former's bangle was turned on by an unidentified person.
The footage amplified this unexpected outcome. It has moments where Monica Rambeau and Ms. Marvel switch places, resulting in a variety of comedic, time-travel, and perplexing events. The group appears to be teleported to each other's locations throughout The Marvels until they figure out how to stop doing so.Before the rest of us get to watch The Marvels in action, it could take some time. It will be preceded in theatres by Guardians of the Galaxy 3 and Ant-Man and the Wasp: Quantumania. Before then, too, Secret Invasion and Loki season 2 will make their Disney Plus debuts. Guardians 3 and Secret Invasion have yet to receive official trailers, and Loki season 2 has yet to receive a teaser. So don't anticipate seeing any The Marvels video online until at least April.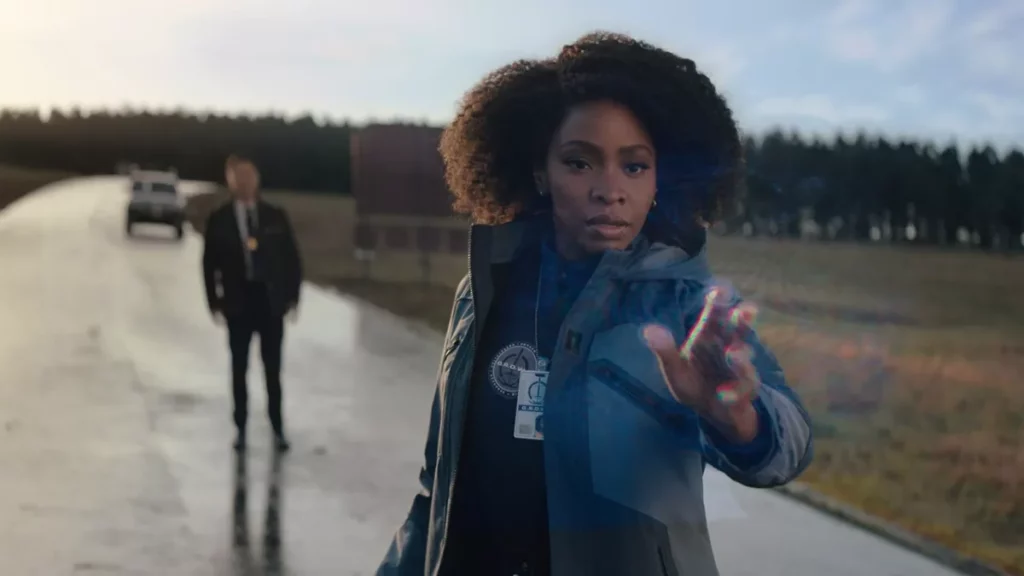 Larson and Parris take on the same roles they did in earlier MCU appearances. Although she had brief appearances in post-credits moments in Shang-Chi and Ms. Marvel, Larson's Captain Marvel was last seen in Avengers: Endgame, while Parris' Rambeau was prominently featured in WandaVision, one of the finest Disney Plus programmes. Vellani, Shroff, Kapur, and Shaikh all make a comeback as their individual Ms. Marvel TV series identities.
There will also be Jackson, who frequently makes an appearance in the MCU as former SHIELD director Nick Fury. Later this year, he'll finally take the lead in a stand-alone film called Secret Invasion, but Fury will also show up in a few 2023 Marvel productions. Quantumania and The Marvels will feature Fury, as Jackson has revealed, but it's unknown how these three movies will be connected.
Monica Rambeau will receive her superhero moniker, Photon, from The Marvels, claims renowned MCU leaker CanWeGetSomeToast. After Monica has given her other heroes a description of her abilities, Kamala Khan is said to have given her that moniker. In the meantime, Brazilian publication Chippu, which has a history of leaking MCU information in advance, has reported that Photon will also acquire her comics-accurate attire.
The main antagonist of the movie has reportedly been cast as Zawe Ashton (Fresh Meat, Velvet Buzzsaw). According to DanielRPK, a Marvel insider, Ashton is portraying a Kree general by the name of Dar-Benn (via Lugar Nenhum). Dar-Benn is a Kree male commander who co-rules the Kree Empire in the comic books. Whether Ashton's Dar-Benn will occupy a comparable role in The Marvels is unknown, although the gender of the character has obviously been changed for the MCU adaptation.
According to CanWeGetSomeToast, Park Seo-joon (Parasite) is purportedly portraying the emperor of a planet where everyone sings. He has not been given a name, but the premise of the movie calls for him to have a significant part .
Meanwhile, Ffion Jolly (Mission: Impossible Fallout) has been hired in an unspecified role, while Abraham Popoola is supposedly portraying a character named Dag . We won't do the same until we have proof that Marvel has included these pair on its official cast roster.
Could Yon Rogg and Talos, played by Jude Law and Ben Mendelsohn, make an appearance as well? The former is a plausible, particularly if Secret Invasion's activities have any bearing on The Marvels. However, given how badly Yon Rogg was defeated by Captain Marvel in her 2019 standalone film, we'd be shocked if Law's Yon Rogg makes an appearance.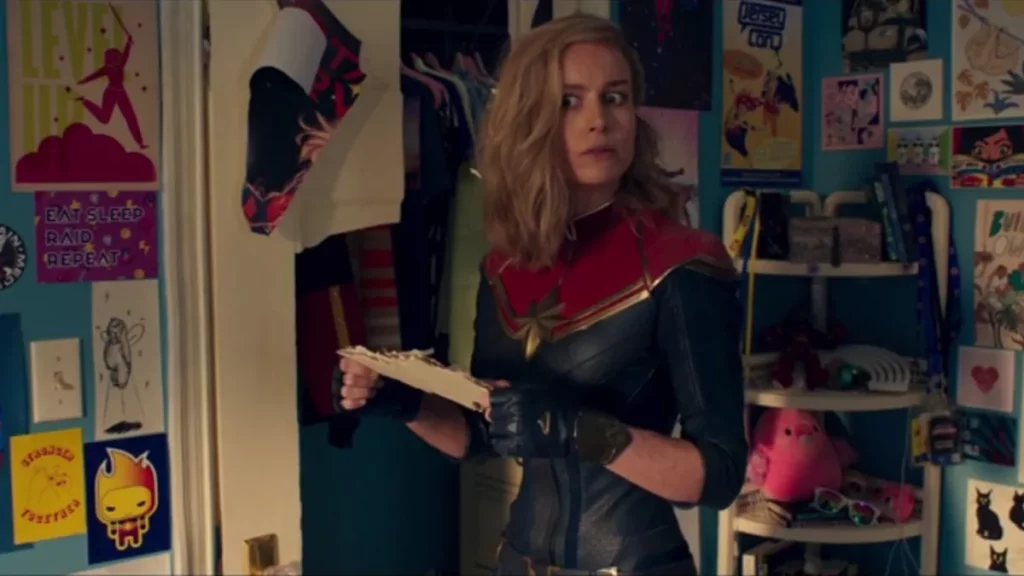 Although a story synopsis has not yet been made public, based on video from D23 2022 and information from MCU insiders, we have some general assumptions about the plot's direction. As we previously reported, The Marvels will focus on the three superheroes of the movie and the reason why they constantly switching places whenever they utilise their powers.
The Tesseract, also known as the Space Stone, was exposed to Carol Danvers via a Kree-designed light-speed engine device, according to the Captain Marvel movie, which was released in 2019. Through the Hex Wanda Maximoff made in WandaVision, the Mind Stone unintentionally changed Monica Rambeau's DNA, giving her abilities. Last but not least, Kamala Khan's grandmother's jewellery is the source of her powers. Oh, and the fact that she carries the X gene, making her one of the original mutants in the MCU.Given that the trio's talents are drawn from elements that contributed to the creation and shaping of the world, it appears that their skills are interconnected and that their power source is the reason they continually switching places. Interestingly, MCU leaks from The Watcher and CanWeGetSomeToast indicate that if they figure out how to stabilise themselves, they will be able to combine their talents.
First, let's talk about the world that Park Seo-persona joon's governs. DanielRPK, CanWeGetSomeToast, and CineStealth all claim that The Marvels will have musical themes in some of its episodes. This implies that a lot of singing, dancing, and maybe amusing situations are to be expected.
What prompted them to enter this world? It appears that Captain Marvel is diplomatically wed to Park Seo-character. joon's It's possible that she consented to marry him in order to avert a catastrophe during her intergalactic journeys. The Marvels, however, won't be "overly comic" in tone and strikes a better comedy-drama balance than the criticised Thor: Love and Thunder. Hope they're correct.
Captain Marvel has a difficult relationship with the Kree. Carol Danvers believed for many years that she belonged to the Kree empire and was a soldier for them after being transported to their home planet following her Tesseract-related injury on Earth. That is, until Talos' breakaway gang of Skrulls grabbed her, jolted her memory, and assisted Carol in rediscovering her actual identity.
Now that Captain Marvel is an adversary of the Kree, anybody who works with her as well as Dar-Benn played by Zawe Ashton are in direct conflict with her. Dar-motivations Benn's are unknown, but it's possible that Ms. Marvel's bracelet—which looks to be made of extraterrestrial technology—has something to do with why he wants her or the others. We know this since the device was intended to be used by the Clandestine, the antagonists in the Ms. Marvel television series, to enlarge the Noor dimension and conquer Earth. Kamala's grandmother initially discovered the bracelet in 1940s India, when it established home in what appeared to be a Kree-like underground chamber.
Dar-desire Benn's for Ms. Marvel's bracelet would make sense if it were of Kree design, especially since the latter already has a bracelet with a similar pattern. Again, we are aware that there are two bangles because of Ms. Marvel's Disney Plus series, but the location of the second has not yet been revealed. Dar-Benn is likely to own that one, leaving Kamala's for her to complete the set and carry out some evil Kree scheme.
One of the most important subplots that The Marvels must handle is the upcoming reunion between Carol and Monica.
Since Carol left in the 1990s, when Captain Marvel's solo film was set, Monica hasn't seen her. Since Carol's dearest friend Maria Rambeau passed away from cancer, neither Monica nor Carol have seen each other. Carol didn't even show up for Maria's burial. Expect Monica to treat Carol with severe coldness until they have cleared things out. Secret Invasion's described events elsewhere may have an influence on what happens in The Marvels. As Secret Invasion is now scheduled to debut in Q1 2023, before The Marvels, Fury's place in The Marvels may already be defined by what transpires in Secret Invasion. Is there a chance for a long overdue reunion with Captain Marvel? If so, it would be quite an emotional one.
We have a few sneaking guesses about what The Marvels' narrative may set the stage for, but a lot relies on how it unfolds.
Ms. Marvel season 2 is first. There is a lot of web rumour that a sequel season is being worked on. Before Avengers 5 and 6 arrive, it's probable that we'll see more of Vellani as Khan/her heroic alter ego on television as opposed to the big screen.
The Marvels might play a significant part in setting up events in Avengers 5 and 6, also known as The Kang Dynasty and Secret Wars, especially the former.
Kang is the upcoming major antagonist in the MCU, as Marvel fans well know. The time-traveling genius who is the main enemy in Ant-Man and the Wasp: Quantumania may be read more about in our Kang the Conqueror described page. The teasers for that movie have already hinted at him getting his hands on some significant extraterrestrial technology.
Some fans appear to believe that Kang's renditions of the title Ten Rings from Shang-Chi are the large, round rings we occasionally see in the Quantumania trailers . If Kang is gathering various weapons based on alien technology as he plans to rule the Marvel cosmos, he would undoubtedly target Ms. Marvel's bracelet as well. If he does, Photon and Captain Marvel will likely block him. We may anticipate seeing Carol, Monica, and Kamala in Secret Wars as well, depending on how The Marvels and The Kang Dynasty develop. The next time we'll see them will probably be in Avengers 5 and 6. We'd be shocked if any of them appear in other Phase 5 projects that have been revealed.
About Post Author