Gwen Stacy, who is portrayed by Hailee Steinfeld, states, "Let's do things differently this time," in the first scene of Spider-Man: Across the Spider-Verse. The Spider-Verse film series, which debuted in 2018 with Spider-Man: Into the Spider-Verse, seems to have adopted it as its motto. The movie addressed the audience's boredom with Spider-Man films and Spider-Men by…introducing more Spider-Characters than ever. A breath of fresh air for Spider-Man flicks, Into the Spider-Verse won an Oscar for Best Animated Feature and introduced the world to the universe. Miles Morales (Shameik Moore), who came after Tobey Maguire and Andrew Garfield's Peter Parkers, demonstrated how alive and full of potential Spider-Man still is.
We go back to Miles Morales and the Spider-Verse five years later. And while Miles's stakes have never been higher, the same is true for this series, which has the difficult task of trying to follow up what many consider to be one of the best animated films in recent history, one of the best superhero films ever, and a film that already seems to have influenced entertainment in major ways, from the look of movies and TV like Puss in Boots: The Last Wish and Ms. Marvel to showing the potential of this hero that Spider-Man: No Way Home follow. Even though Into the Spider-Verse is a contemporary masterpiece, Across the Spider-Verse manages to match, if not outdo, this fantastic realm. It is one of the most captivating, thrilling, and jaw-dropping movies to come out in years, with even more impressive animation and a stronger connection to its characters and their relationships. By the conclusion of Across the Spider-Verse, Miles Morales has emerged as the finest Spider-Man in terms of movies. Not only that, but this superhero movie series may very well be the finest one to date.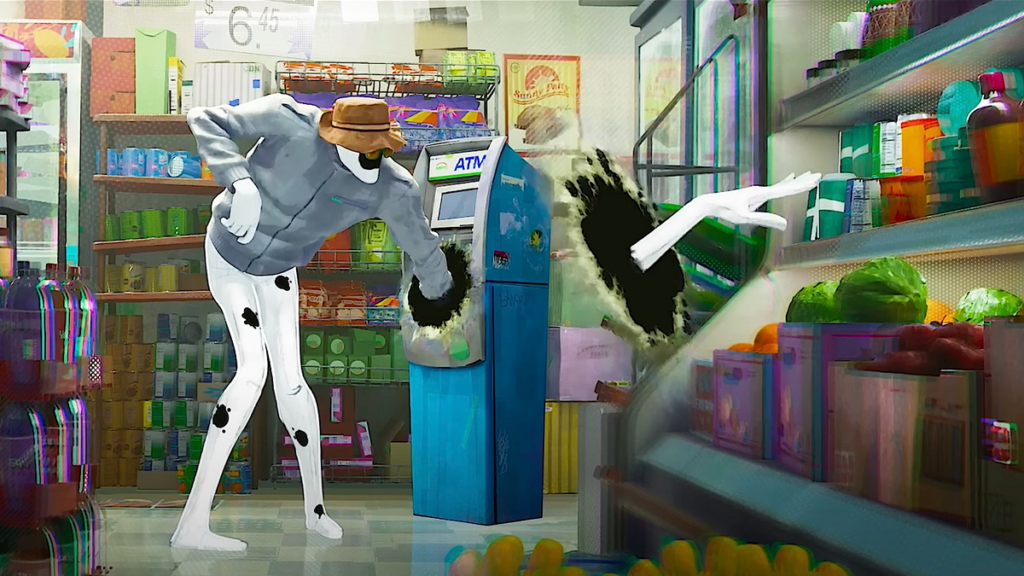 A little more than a year has passed since the events of Into the Spider-Verse when Across the Spider-Verse takes place. In order to close the tears left by the collider in Into the Spider-Verse that are still producing anomalies, Gwen has left her own reality and joined a gang of other Spider-People who are travelling across different realities. However, as is the case with all Spider-Men, Miles Morales is struggling to maintain a balance between his real life and his alter ego. This distance also keeps Miles Morales' mother Rio (Luna Lauren Vélez) and father Jefferson Davis (Brian Tyree Henry) at a distance.Additionally, Miles misses his Spider-Friends, particularly Gwen, who haven't come to see him since their most recent trip. The new antagonist The Spot (Jason Schwartzman), who identifies as Miles' arch-nemesis and has learned how to explore other worlds through his holes (His strength is holes he can utilise as portals), makes things much more challenging for Miles. Grow up (come on).
The Spider-Society, which is commanded by Miguel O'Hara/Spider-Man 2099 (Oscar Isaac), is working to maintain the multiverses as they should be, including attempting to stop The Spot, as soon as Gwen visits Miles. Miguel is committed to ensuring that the Spider-Verse is as it should be because he has witnessed what occurs when things don't go as they should. However, Miles may be going against the fundamental characteristics of what defines a Spider-Man as he realises what that implies for him and his existence as a hero.
Spider-Woman (Issa Rae), who helps Miguel and the Spider-Society in their efforts to fix the multiverses; Pavitr Prabhakar (Karan Soni), the Spider-Man of Mumbattan—a combination of Mumbai and Manhattan; Spider-Punk (Daniel Kaluuya), who uses his guitar in fights and doesn't follow authority; and many more Spider-People than you could count.Despite how much Across the Spider-Verse presents to the audience (and it is a lot), writers Phil Lord, Christopher Miller, and David Callaham, as well as directors Joaquim Dos Santos, Kemp Powers, and Justin K. Thompson, manage to balance all of these new characters and opportunities in a way that is never overwhelming.They created a universe that is always captivating and easy to get lost in.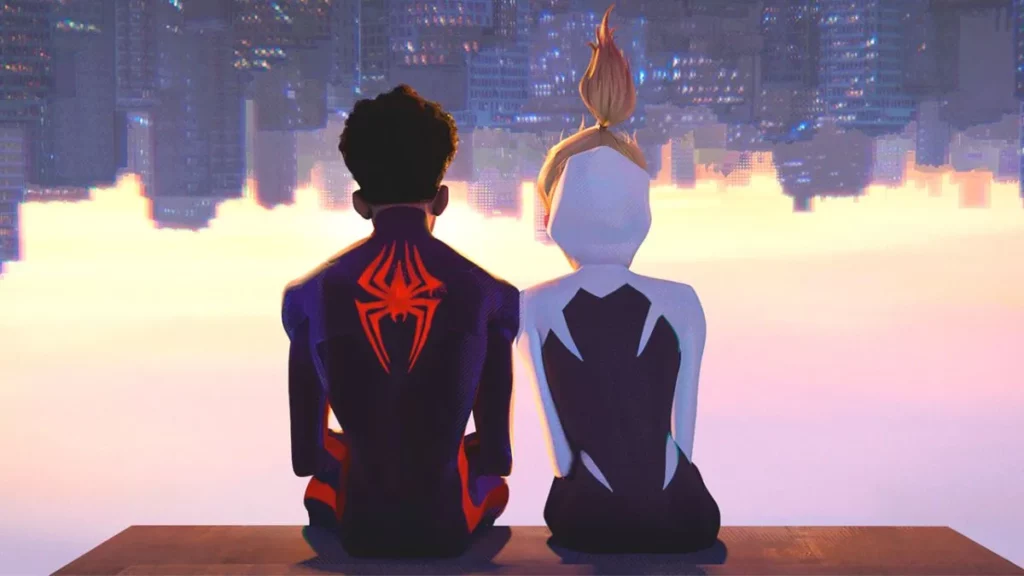 In addition to this amazing character balance, Across the Spider-Verse immerses the audience in an incredible number of universes, each with its own animation style and tone and all of which could probably support their own independent movie. With realms like the sci-fi Spider-Man 2099 universe, one that resembles a comic book even more, and even a Lego world, to mention a few, the possibilities are really unlimited. Each dimension is fascinating in its own unique way, and Across the Spider-Verse is horribly clever in the way it smoothly weaves all these creative ideas together in a way that makes narrative sense.
Even greater is the interplay between these distinctive people and stunning settings. In the introduction, which focuses on Gwen Stacy, we notice that her environment is rich with pastel hues, including pops of pink, purple, and bright. She is confronted by a Renaissance-themed, multiverse-hopping version of the Vulture who appears to be made of paper. Or, as The Spot becomes stronger, his black-and-white appearance becomes more edgy and harsh, cutting through the breathtaking settings he finds himself in. It's amazing to see how these two genres interact with one another, and the movie frequently combines approaches in this way, whether it's with a quartet of Spider-People from several universes or countless numbers during an action sequence.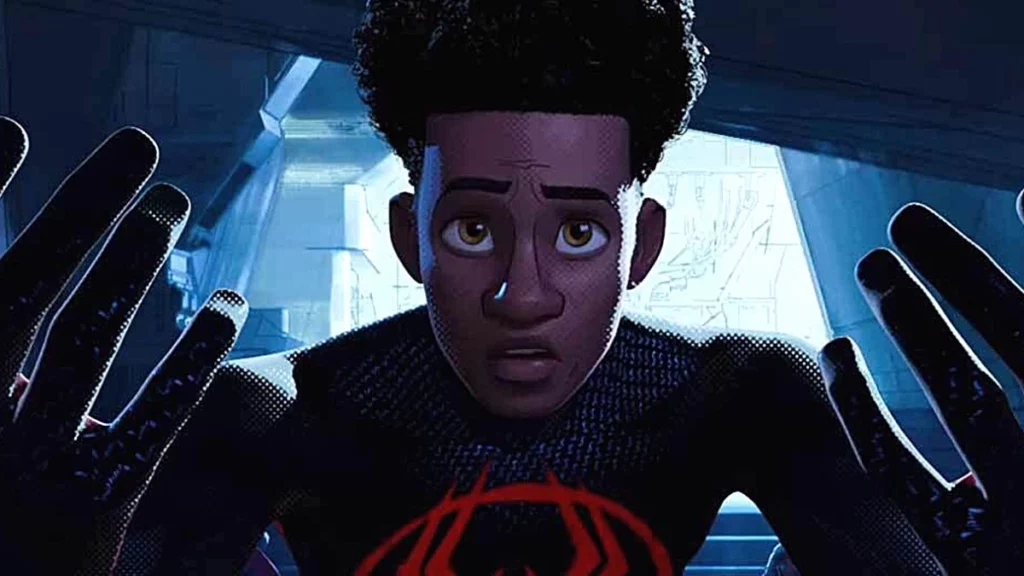 Although each shot might be reproduced and put on a wall, these distinctive artistic approaches also aid in the story's ingenious exploration by the filmmakers and animators. In one moment, Gwen and her father George Stacy (Shea Whigham) engage in an emotional discourse as they watch the world transform and shift around them. The art is almost impressionistic, and as their tones shift and insights materialise, the world loses and gains colour as the discussion ebbs and flows.However, this strategy is not disorienting. Instead, it seems like the story is guiding the artwork and setting, giving us a greater understanding of how they are feeling—much as how thought bubbles in comics are used to examine interior feelings. This and other clever details abound throughout Across the Spider-Verse, where the attention to detail and passion for the narrative are evident in each and every frame.
But Across the Spider-Verse isn't just about aesthetics; Lord, Miller, and Callaham have created a narrative that amplifies all of Miles Morales' issues. Now that he has taken on the duties of Spider-Man, his connection with his family is more strained and confusing, and he is still unsure of how to embrace this new role. He misses his pals and feels alienated in a group that he was unaware even existed. And he fears that because of who he is, the ones he cares about the most will suffer. While Miles said at the conclusion of Into the Spider-Verse that anybody could don the mask, Across the Spider-Verse questions if that may be true and even confronts what it truly means to be a Spider-Man. This final question is made to be a significant challenge for Miles to investigate in Across the Spider-Verse, but the movie also has a lot of fun dipping into the Spider-Man canon and throwing in major Easter eggs and incredible jokes for the casual and die-hard Spider-Man fans to catch.
It seemed virtually inconceivable that Across the Spider-Verse could live up to the high expectations that this follow-up intrinsically had, given how Into the Spider-Verse felt like an adrenaline injection into Spider-Man. However, Across the Spider-Verse pushes everything that Into the Spider-Verse did up to 11, giving this character and superhero movies in general another energizing kick. Across the Spider-Verse is not just without a doubt one of the finest movies of 2023 and one of the best animated movies in recent memory, but it is also a contender for the best superhero movie of all time and may have cemented Miles Morales as the best Spider-Man we have seen on screen. The movie Across the Spider-Verse is so ambitious and amazing that it almost seems miraculous that it even exists. Fortunately, we live in a universe where it does.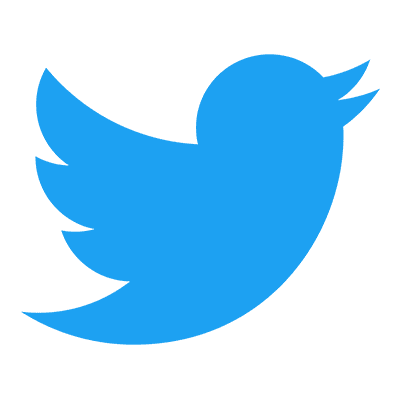 Follow us to get free & fast MCU Movies/Shows Leaks & News
About Post Author